Auckland is buying 23 new electric commuter trains costing $330 million, taking the fleet to 95 train sets. The cost also includes modifications to the existing fleet of 72 trains to improve their performance and new storage facilities.

Auckland Transport said the first of the new trains would begin arriving in late 2024, around the planned opening of the $4.5 billion City Rail Link project.

The new three-unit "AM class" Spanish-built trains will the same design on the trains currently operating on the city's network since 2014.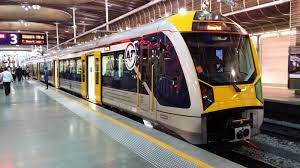 The expansion of the train fleet is being half-funded by the government through Waka Kotahi New Zealand Transport Agency and by Auckland Council, using an unspecified amount raised via Auckland Regional Fuel Tax.

Auckland Transport said the expansion would cater for expected growth after major rail projects are completed, not only for the City Rail Link but also the extension of electric service to Pukekohe.

The new City Rail Link will double the capacity of train services on the rail network due looping of train services under the inner city, allowing more frequent services and cutting travel times into Auckland's city central area.

"The increase in patronage on the rail network in recent years can partly be credited to the introduction of our electric trains," said Shane Ellison, the chief executive on Auckland Transport.